Regular price
€15,00
Donation price
€15,00
Unit price
per
Donation gift
Sold out
In stock
Select Quantity

Complete Donation

Gift personally
Shipping rates and delivery time

Shipping rates for 1 gift (2kg):

€3.15 - Netherlands delivered by PostNL.
€4.95 - Belgium (Flanders) delivered by PostNL.
€4.15 - Germany delivered by Deutsche Post.
€5.15 - Austria delivered by Deutsche Post.

To see the rates for 2, 10, 100 or more, please see the check-out page. 

Delivery times (from dispatch moment - you receive an email):

Netherlands: 2-4 working days.
Belgium (Flanders): 3-5 working days
Germany: 5-10 working days.
Austria: 5-10 working days.
About your donation

We just wanted to remind you that your payment is considered a donation, not a purchase, which means that no taxes will be charged. Our goal is to send you a package with the understanding that you will personally deliver it to a Ukrainian refugee family at no additional cost. However, if you're unable to do so, we kindly ask that you refrain from completing the checkout process. We appreciate your understanding and willingness to support our cause.

Thank you!
A specially designed package for Ukrainian refugee children aged 3 to 7 in this particular situation. Five bilingual interactive picture books unite them with their family members and help them to adapt to their new language environment.

Contents:

DIY crafts box that allows kids to create their own talking character.

up to 25x family narrations (remotely recorded stories by family members staying behind in Ukraine)
10 professionally narrated audiobooks that run for 1.5 hours
5x bilingual picture books from the best Ukrainian illustrators and authors
Een gouden idee! / Ідея на мільй000000н!
101 vuurtorens / 101 маяк
De bizon zoekt een nest / Зубр шукає гніздо
Mijn opoe / Моя Ба
De dag dat Oorlog naar Rondo kwam / Війна, що змінила Рондо
Learn more about the books, authors, illustrators and narrators on our website, or read about the unboxing experience for Ukrainians here. 
Wondering how to gift this package?
If you're gifting to a single family, we recommend trying the package experience before gifting it. On the day of gifting, repeat the steps with the Ukrainian child and assist their guardian or mother in playing the audiobooks and sending a link for narration to distant family members.
If you're gifting to a group of children, we suggest organizing a crafts workshop with a reading session for the best experience. Check out our videos for inspiration on creating a fun and engaging experience for the kids.
Make a positive impact on a child's life today!
View full details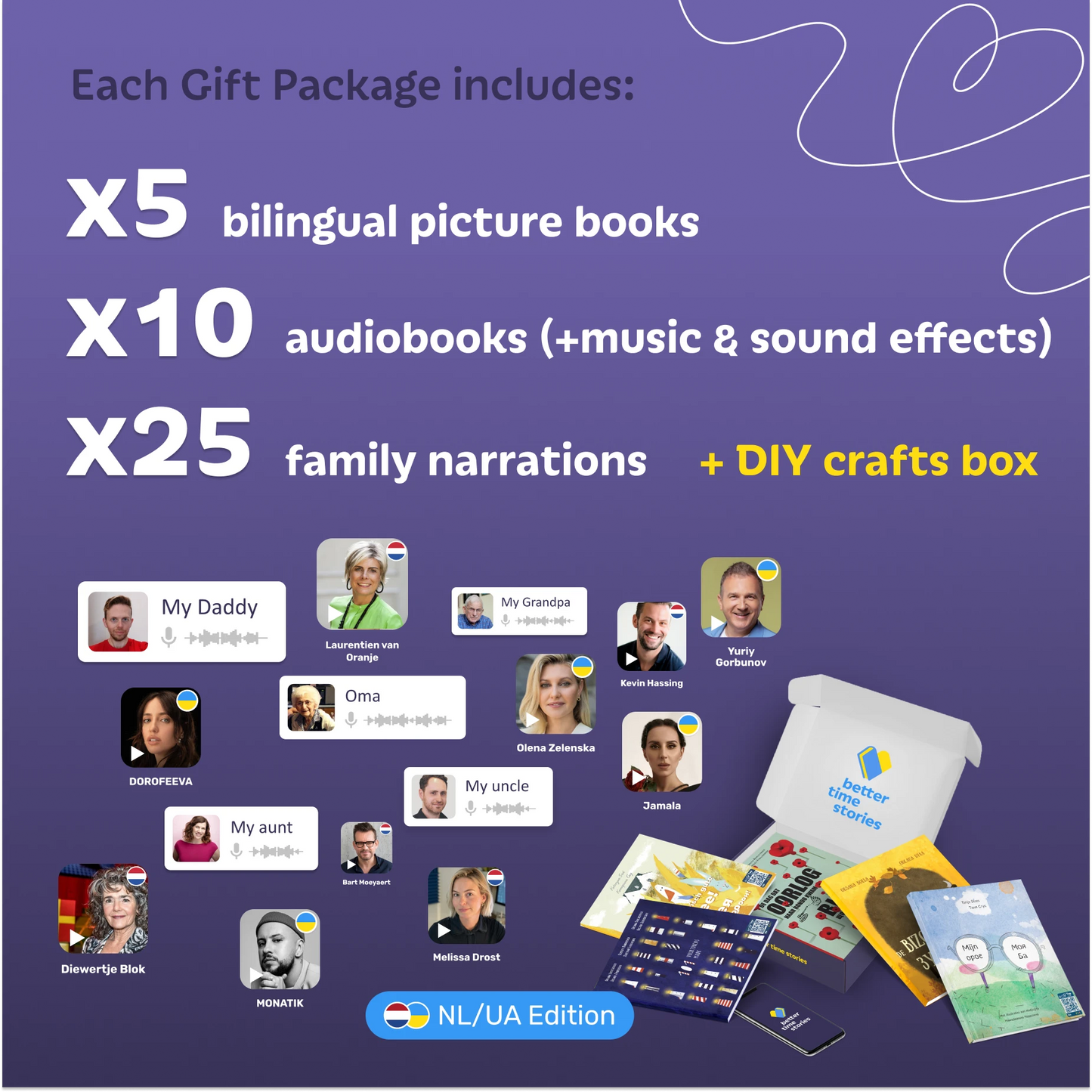 De bizon zoekt een nest / Зубр шукає гніздо
All important things in the woods are managed by wonderful tukonis. And now they are preparing to visit the animals who fall asleep in winter. But there are animals who do not sleep in winter. The Bison is used to roaming in the snow in search of food. He had not even suspected that one could safely nap in a den when it freezes outside – until he met the bear, who was just getting ready to go to sleep... The result of this meeting, as well as the ability to listen to oneself and others, are explained in this warm and touching story
Mijn opoe / Моя Ба
Every person has a special memory hut where their kin lives. So Gran is there, on the porch of that so-called hut. An old granny cannot properly move, it is hard for her to talk, but despite all that her relatives still love her, value every precious minute spent together and accept each other the way they are.
101 vuurtorens / 101 маяк
When Zakhar cannot fall asleep, he thinks how other people sleep and observes the house across the street. The light often flashes in the window, so the boy imagines it to be a lighthouse. Zakhar does not sleep as his father, an architect, does not sleep either. Dad offers a proven method to enable his son to fall asleep. It's counting. So, what will they count? Will Zakhar manage to fall asleep?
Een gouden idee! / Ідея на мільй000000н!
When a farm loses its owner, a flock of ducks living there start thinking about their future. The ducks decide to write an advertisement, stating that they are looking for a new owner, but since they can't write, they have to learn to do so. You can discover whether the ducks achieve their aim by flipping through the picture book The Milli000000n-Dollar Idea by Katerina Sad together with your child. Through this wonderful and humorous story, readers will learn what a successful start-up is and that there is always a way out of a difficult situation.
De dag dat Oorlog naar Rondo kwam / Війна, що змінила Рондо
War has come to the idyllic town of Rondo. Can three gentle but brave friends stop War's destruction and save their beloved home? Danko, Zirka, and Fabian live peacefully in the small town of Rondo, a magical and joyful place where even the flowers sing! Everything is perfect ... until the fateful day that War arrives. Having never experienced War, the inhabitants don't know what to do. They try to talk to it and fight it, but nothing seems to stop the spread of War's destruction and darkness. Harnessing the power of light, community, and song, Danko, Zirka, and Fabian, along with all their neighbors, must rally together to lead Rondo to victory. How War Changed Rondo reflects the darkness and pain that conflict bring and the wounds that linger long after it's over. This picture book serves as a tribute to peace, resistance, and hope.
Better bed time stories
Such an awesome initiative! We hope to give young Ukranian kids with these packages good bed time stories and sweet dreams.